The rooms Siguret, Fère and Mazelière are equipped with beds for 2 people in double or single beds. Each has its bathroom and separate WC, storage, WIFI and balcony access. Breakfast is included et servi dans la salle à manger de 8h00 à 9h30.
You will appreciate the calm of the hamlet while being at a few minutes of the historical village of Orres or the center station. Many activities are available nearby.
En outre, vous pouvez également profiter des services de notre gîte (sur réservation) : dîner du soir servi dans notre salle à manger, accès à l'espace bien-être.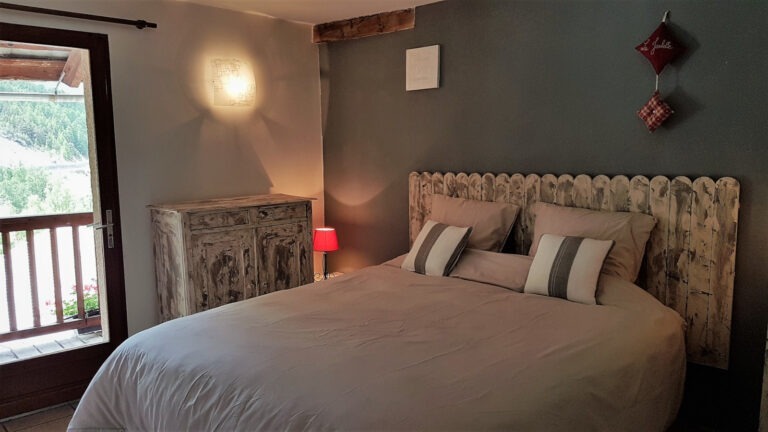 2 people (adults and / or children)
Individual heating, shower room, separate WC, sheets provided, free WI-FI, balcony, fridge on the ground floor, breakfast included
View of the mountains and hamlet
1 Queen size bed 160 × 200 (or 2 single beds 80 × 200 on request)
2nd floor - access via the internal staircase
Price from : 85 € per night for 2 persons (tourist tax surcharge)
Availability room SIGURET:
2 people (adults and / or children)
Individual heating, shower room, separate WC, sheets provided, free WI-FI, balcony, fridge on the ground floor, breakfast included
View of the mountains and hamlet
1 Queen size bed 160 × 200 (or 2 single beds 80 × 200 on request)
2nd floor - access via the internal staircase
Price from : 85 € per night for 2 persons (tourist tax surcharge)
2 people (adults and / or children)
Individual heating, shower room, separate WC, sheets provided, free WI-FI, balcony, fridge on the ground floor, breakfast included
View of the mountains and hamlet
1 Queen size bed 160 × 200 (or 2 single beds 80 × 200 on request)
2nd floor - access via the internal staircase
Price from : 85 € per night for 2 persons (tourist tax surcharge)
Availabilities room MAZELIERE: